BBC Quadraphonics
The BBC recently held a press conference on four channel sound to tell us that they had nothing to report.
Michael Gerzon, 'What's wrong with Quadraphonics?' Studio Sound, May 1974
http://www.audiosignal.co.uk/Resources/What_is_wrong_with_quadraphonics_A4.pdf
The BBC took a back seat when it came to developing quadraphonic sound reproduction. Experiments took place behind the scenes, but were not widely publicised. Michael heard on the grapevine in July 1974 that there might be a quadraphonic broadcast, but it was not confirmed until the last minute. The broadcast took place after the regular programmes had finished for the evening, and required two transmitters, each broadcasting two stereo channels.
We took all the playback equipment to a room in Court Place, Iffley, on the outskirts of Oxford, for the experiment. The photos show that we had great fun while setting up, but the experience did not convince us it was worth staying up late for the broadcast.
Setting up
Click on the image to see a larger version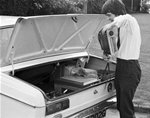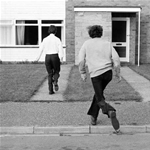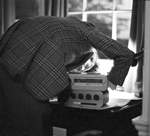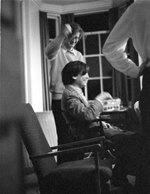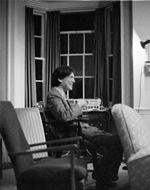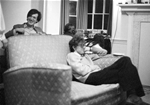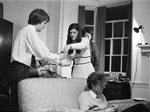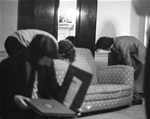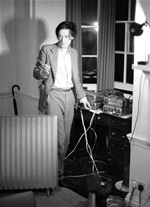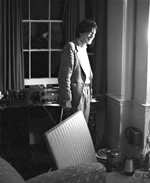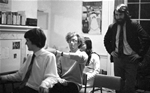 Listening to the broadcast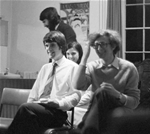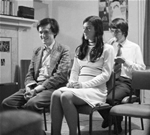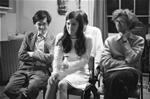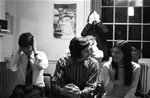 Post-mortem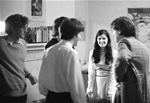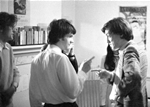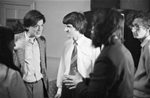 Heard the dreaded BBC Quadrimono experiment. Started at the unearthly hour of 12 midnight and went on for an hour. Everything was as bad as we expected, even though MAG said it sounded better than the BBC's own set-up. Classical music from the Proms was absolutely dreadful, obviously recorded at about 45 degrees to the vertical above the orchestra, with scrappy, scratchy violins and feeble percussion. Image very unstable, with positive localisation only at the corners – a moving image jumped alarmingly from one speaker to the next with no progression. Oedipus Rex was a farce – overblown undergraduate-type acting with no use of the space – artificial echo faded in at the speakers only. Even the pop [music] was dreadful – absolutely no imagination.
By the time we had dismantled the equipment and taken it away, it was after 3 am!
The BBC clearly did not have the technical skills or creative imagination to show what could be done with quadraphonics.
Publication
Michael Gerzon, 'What's Wrong with Quadraphonics?' Studio Sound, Vol. 16 no. 5, pp. 50, 51, 56 (May 1974)
http://www.audiosignal.co.uk/Resources/What_is_wrong_with_quadraphonics_A4.pdf